Second Vedomosti Cup Sailing Regatta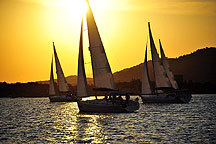 The annual Vedomosti Cup Captains of Business regatta will be held with support from The Moscow Times on Sept. 8 to 14. Twelve teams from well-known Russian and international companies have already confirmed their participation. They include: Trust National Bank, UniCreditBank, Sberbank and Troika Dialog, Hyundai, Genser, Lincoln, Teletrade, RIA-Novosti and many others. Registration for the race is still open.
Trust National Bank is serving as general partner to the event for the second year running. The Hyundai Equus luxury sedan has been named the official car of the regatta. Gaastra, the popular European brand of high-quality clothing for sailing and active lifestyles, will serve as style partner to the regatta.
The race will be held in the waters of the Aegean Sea along the Turkish coastline from Bozburun to Cape Knidos, with calls on the Greek islands of Symi and Rhodes. For more information, visit www.vedomosti.ru/feature/regata.