Na Rublyovkye Newspaper Helps Clean Up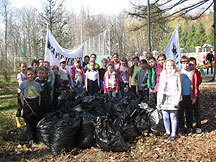 Na Rublyovkye newspaper held an ecological expedition in cooperation with the Rublyovka Club, the Barvikhinsky High School and the local administration.
Schoolteacher Larisa Nikolayevna Shumova and students from the third and seventh grades helped clean up a park near the Barvikha Cultural Center on April 25 and 26. The children felt good about the work they had done and ended by exclaiming, "It's great how everything is so clean now!"
Local residents joined in the initiative. They cleared trash from the Barvikhinsky Woods — specifically, the so-called Tyoplaya Gorka area — the site of an ancient town. Rublyovka Club members and their friends cleaned up the area around the monument to military glory in Rozhdestveno village. Participants in the cleanup campaign transformed parks, public squares, residential areas and the woods in Rublyovka in preparation for Victory Day celebrations.