Yes! Hand over your paper!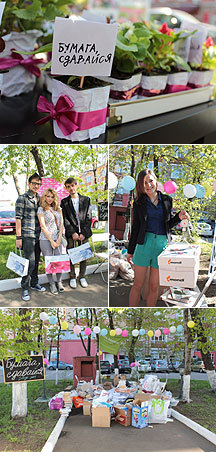 Yes! and members of the Say Yes charitable community held a paper recycling drive in the Sanoma Independent Media parking lot on May 4. The drive brought together readers, publishing house staff and celebrities Dima Tikhonov, Alexei Fillin, Antonina Shapovalova and others.
Vedomosti newspaper employees contributed the most: 495.6 kg. Men's Health magazine came in second with 78 kg. Ksyusha Babiichuk placed first among readers, personally hauling in 25 kg. of paper. A total of 1,347.45 kilograms of paper was collected for recycling! That means we saved 13 trees and one bush.
Participants contributing the most paper received gifts from Yes! and Yves Rocher.