Women's Health in June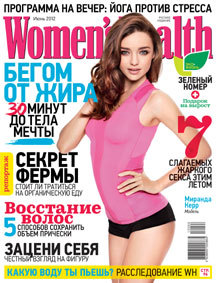 The June issue of Women's Health shows how to have fun and get into harmony with the environment this summer. New workout information and nutrition tips round out an article on whether you should start buying fresh farm products and the art of homemade cosmetics. Readers will also receive a special bonus: a packet of watercress seeds. Watercress is an unpretentious and nutritional food that takes only two weeks to go from seed to table — and you will contribute to the greening of the planet in the process.
Also in this issue:
Running from fat: 30 minutes to your dream figure;
Seven terms for hot sex this summer;
Farm secrets: should you spend money on organic food?
Rebellious hair: five ways to preserve your hair's volume;
Evaluate yourself: an honest look at body figures;
What water do you drink? — research by Women's Health.
The June issue of Women's Health goes on sale May 15.