Yes! Celebrity Issue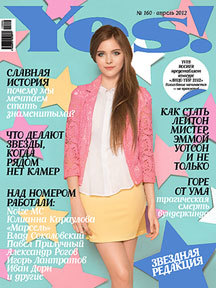 The Yes! editorial board has undergone some changes: A team of show business stars worked to produce the April issue.
In the April issue, Noize MC, Yulianna Karaulova, the Marcel group, Vlad Sokolovsky, Pavel Priluchny, Alexander Rogov, Igor Lantratov, Ivan Dorn and other celebrities share their success stories, reveal details of their personal lives and talk about the difficulties encountered on the road to glory.
This issue of Yes! will also show how ordinary girls underwent a striking transformation to become superstars. In addition, readers will learn numerous celebrity secrets: how they maintain perfect figures and choose the right makeup, and what they do when no cameras are watching.