Anniversary Section in The Moscow Times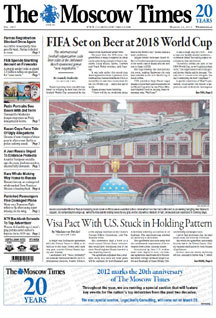 The Moscow Times, the only daily English-language business newspaper in Russia, celebrates its 20th anniversary in 2012. As part of the celebratory activities, the anniversary section "20 Years in Business – Highlights From the Industry" will run in the newspaper and on the 20th.themoscowtimes.com website throughout the year.
Each entry will contain a review of key events of the past 20 years in one of the nation's top business sectors. "Oil & Gas," the first article to appear under the new heading, was released in late February. The article featured BP Russia President Jeremy Hack discussing the company's decision to invest in the Russian oil industry in 1997 and the thorny path it has tread over the subsequent 15 years.
The next publication under the special heading will examine legal, auditing and consulting services and is slated for release on March 28.