April Issue of Women's Health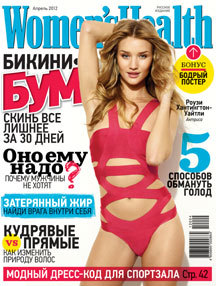 The April issue of Women's Health magazine was released on March 20 with a special insert — a fun, motivational poster. The April issue also includes:
Bikini Boom: Lose excess weight in only 30 days;
Is it necessary? Why men sometimes don't want sex;
Hidden fat: find the enemy within;
Five ways to cheat hunger pains;
Curly vs. straight: changing hair's natural shape;
Fashion code for the gym;
Rosie Huntington-Whiteley shares her secrets of success;
Ten occupations that are dangerous for your health;
Test: Why you want to eat again so soon.
A large-scale advertising campaign accompanies the issue's release. A creative 15-second television ad conveying the Women's Health concept of "It's good to be you!" will air an average of five times daily on Moscow's TNT television and Muz-TV nationwide from March 19 to 31. Banner ads announcing the April issue are being placed in the Metropolis shopping center.
A lottery for free magazine subscriptions and giveaways is being held at the Metropolis shopping center and in the World Class and Fizkult fitness center chains. In addition, a special section of Women's Health can be heard on air during the "Morning with Black Pepper" show on Energy radio.