"The Perfect Wedding" with Wedding Magazine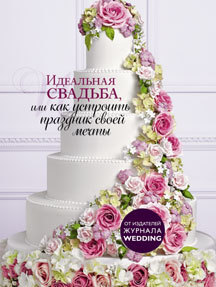 Wedding magazine will publish the book "The Perfect Wedding – or How to Organize Your Dream Holiday." This is first book on the Russian market of this size and quality and dedicated to every important aspect of preparing for the happiest day of your life. It would be no exaggeration to call this book a practical guide for future newlyweds. It brings together the best material published in Wedding magazine over the past several years — inspiring ideas that will help future brides and grooms organize a beautiful and unforgettable ceremony.
The book provides readers with comprehensive information on wedding fashion and jewelry as well as sample wedding and honeymoon scenarios. Also included are interviews with the best wedding emcees of Europe and the United States as well as designers and fashion experts, advice from florists, makeup artists, psychologists and lawyers and, of course, gorgeous photography by renowned wedding and fashion photographers — and this is not an exhaustive list of everything the Wedding editors have prepared for brides and grooms.
The book is produced by Exmo publishers and will be released for sale throughout Russia in March 2012. "The Perfect Wedding" is sure to become a bestseller in the book market. It is a unique new product, an outstanding gift for all those who are preparing for a wedding or still just dreaming about it!