Collezioni School of Fashion Discoveries in Milan Show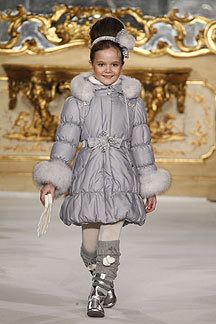 Major Russian manufacturer Stillini held its first-ever showing with the Italian National Chamber of Fashion in Milan on Feb. 28. The fashion house demonstrated its collection of clothing for children and youth during Fashion Week events.
A total of 45 young models, including those aged from 4 to 12 years from the Collezioni School of Fashion Discoveries, came from Russia to present the collection with its wealth of images and styles. The fashion show was held in the courtyard of the Palazzo Clerici, a unique 17th-century architectural monument.
Stillini presented its fall-winter 2012-13 collection, "Welcome to My Wonderland," to the assembled journalists and fashion experts. The collection aptly reflected the fashion brand's philosophy of "beauty and modernity" by its rich sense of romance and use of flirtatious details: colors, glitter and lacy patterns sprinkled throughout.