Joint Expedition with National Geographic Russia and Volvo Car Russia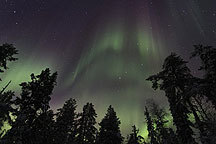 A joint expedition by National Geographic Russia and Volvo Car Russia to explore Scandinavia in off-road vehicles set out on Feb. 17 from the "Autobiography" Volvo headquarters in St. Petersburg. The joint project was created to produce a movie called "Northern Lights" about one of the world's most amazing natural wonders.
The expedition will end in Gothenburg where the Volvo headquarters, as well as the factory of the renowned Scandinavian brand are located. The expedition, which includes representatives of Volvo car Russia and National Geographic Russia, will make stops in cities in Finland, Norway and Sweden.
Three famous automotive legends set out in search of the marvelous northern lights: the powerful Volvo XC90 SUV, the multi-terrain XC70 crossover and the compact XC60 crossover. Uncompromising safety and reliability, all-wheel drive, suitability for the harsh northern climate and difficult road conditions as well as their renowned Scandinavian design have made these automobiles Volvo's best-selling models in Russia.
"Everyone who has ever seen a photograph of the aurora borealis dreams of gazing at that 'solar wind' one day," said National Geographic Russia editor-in-chief Alexander Grek. "We have before us the challenging task of creating a film that conveys all of the beauty of this extraordinary and wonderful phenomenon. Volvo automobiles, famous for their safety, comfort and reliability, are the perfect choice for traveling on the snowbound roads of Scandinavia – the cars' native stomping grounds," Grek said.
The expedition will be broadcast online on the National Geographic Russia and Volvo Car Russia Facebook and Vkontakte social network pages. A detailed photo essay of the journey will also appear in the April issue of National Geographic Russia.
According to Anton Svekolnikov, public relations manager for Volvo Car Russia, "This journey to the northern lights is dedicated to the 85th anniversary of the Volvo brand. We have big plans for all of 2012," he said, "and this expedition will be one of the most outstanding projects we plan for celebrating the anniversary. The unbelievable beauty of northern Scandinavia, the northern lights and the unique Scandinavian design of Volvo automobiles all make up elements of a single picture, a single masterpiece," Svekolnikov said.
The first news from the expedition members is expected shortly. Everyone is impatiently waiting for the magical shots of the aurora borealis – the northern lights illuminating the road for the dauntless Volvo automobiles.