National Geographic Traveler: World's 10 Most Beautiful Islands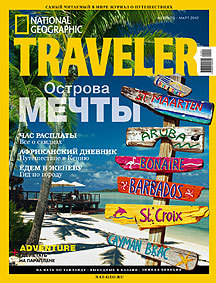 In the new issue of National Geographic Traveler magazine, readers will learn which islands are considered the world's most beautiful: Corsica, Formentera, Rangiroa, Tasmania… But what other islands are included on the list?
The Strategy section reveals the secrets of successful shopping and shares helpful advice on finding discounts and bargains: where and how to find cheap airline tickets, clothing, ski equipment and much more.
The Travel Guide section offers a guide to the Swiss city of Geneva, along with useful tips from locals exclusively for National Geographic Traveler.
Report from Kenya: our correspondent relates his adventures in the capital city of Nairobi, on Mount Kenya, in the Maasai Mara National Reserve and on Lamu Island.
The Adventure section features paragliding: everything you need to know to make a flight and six of the best places in the world for doing it.
In 48 Hours, readers will spend a weekend in Kazan. Learn fun and interesting ways to pass the time on the left bank of the Volga River.
The new issue went on sale Feb. 7.