Cosmopolitan Psychology – Big Issue on Deep Feelings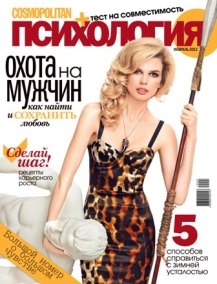 It is common knowledge that there are nine men for every 10 women, we spend one-third of our lives in bed, and most of our waking hours are spent at work. Under such conditions, how can a good-looking and successful denizen of a major metropolis find and maintain a loving relationship? How can you find a person to love among the crowds of people and learn to express your feelings? The February issue of Cosmopolitan Psychology devotes its main story to exactly that: "Hunting for Men."
And for those women who are waiting to be told that they should "wear pumps and something tight-fitting and red" when going on a date, the magazine prepared a list of myths about successful dates and asked members of the opposite sex to comment on them.
Also in this issue: recipes for career growth, five ways to cope with winter fatigue, exclusive compatibility tests and much more.
The issue was released for sale on Jan. 24.