Modny Prigovor with Natalia Kulikova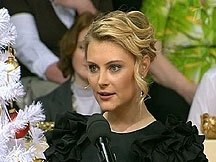 Wedding magazine editor-in-chief Natalia Kulikova appeared for the first time as an expert consultant on the Modny Prigovor (Fashion Verdict) television program on Jan. 13.
This talk show about beauty and style airs every weekday on Channel One. The program features men and women who before the studio audience stand accused of the crime of not wanting to dress stylishly or beautifully. On this show, Kulikova offered advice to the women on how to choose a wedding dress and the importance of observing the Russian Orthodox wedding traditions of covering the head, wearing a long skirt and covering the shoulders. 
Participants on the show undergo two transformations — first, according to their understanding of beauty, and, second, according to their stylists' recommendations. It is a game of transformations, an exciting contest that pits daring men and women against professionals. This is where viewers can watch men and women discover their ideal image.