The Moscow Times: Everything about the Winter Season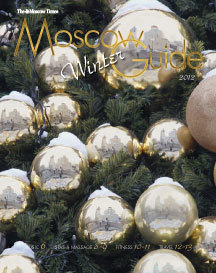 The Moscow Times newspaper presents the new edition of its seasonal glossy Moscow Winter Guide supplement devoted to the Christmas and New Year's holidays and to the whole winter season.
The Moscow Winter Guide is for those who want to know everything about the winter — from December through March — and to learn what's happening around town. The issue covers every aspect of winter — from favorite winter sports on ice and snow to steam baths and the solemn beauty of snow. The supplement includes articles on fitness, resorts, travel and excursions as well as winter concert information. The editors thought of absolutely everything, so readers can just relax and enjoy the 2011-12 winter.
The Moscow Times wishes all of its readers a very happy holiday season!