Lifestyle Guide from The Moscow Times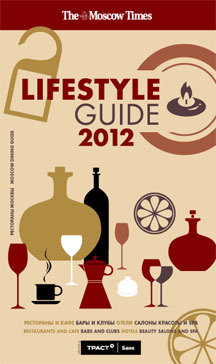 The Moscow Times newspaper, in cooperation with the National Bank TRUST, has published the latest Lifestyle Guide introducing readers to the style and rhythm of the metropolis.
The newest Lifestyle Guide features luxury-class businesses and services in Moscow — gourmet restaurants, bars and clubs, luxury spas and beauty salons as well as five-star hotels. Readers will also find the best chefs and trends in gourmet cooking, authentic top-tier restaurants and pubs catering to elite clients, oriental spas and exotic beauty treatments, designer hotels furnished with the latest technologies, countryside guest houses perfect for relaxation as well as nightclub parties and trend-setting hangouts and cocktails.
A convenient metro system index and navigator make it easy to find interesting restaurants, beauty salons, bars and hotels. In short, the Lifestyle Guide includes only the most interesting and useful information for those attuned to the rhythm of the big city.