Agroinvestor Business Conference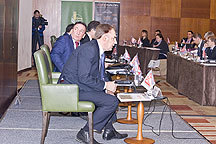 Agroinvestor magazine held its eighth "Agroholding Russia" conference on Dec. 2 at the Ararat Park Hyatt hotel in Moscow. A record number of participants and business partners attended the event.
This year, 150 senior managers from agroholding businesses, agricultural enterprises, investment, management, leasing, agricultural supply and processing companies, federal analysts and agriculture specialists participated in the conference. Ingosstrakh acted as general partner to the event and the Russian Agricultural Bank, the Stoilenskaya Niva corporation and AGCO Machinery also served as partners. More than 10 federal information agencies reported on the conference along with television channels and other media outlets including Reuters, RIA-Novosti, RBC, Prime, Itar-Tass, Finmarket, Interfax, Agro-TV, RBC TV, Vedomosti and Russian Radio.
Agroinvestor will conduct the next event — a forum titled "The Agriculture of the Black Earth Zone – Development Strategies" — in Voronezh on March 15, 2012.