Celebrate a Magical 2012 with Yes!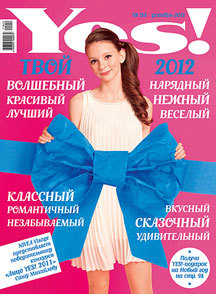 There are many things we love about New Year's: pleasant surprises, fireworks, the festive mood, tasty treats, gifts and, most importantly, the anticipation of an approaching miracle. This special issue of Yes! proves that the miracle will sooner or later come to pass. That is what happened to Sasha Mikhailova, a reader from St. Petersburg who until recently could only dream of gracing the cover of her favorite magazine. Now Sasha, winner of the "Face of the Year" contest for 2011, is featured on the gatefold cover of the special New Year's issue. 
In addition to all sorts of miracles, readers will enjoy loads of material to help them make this holiday memorable, joyful, elegant and truly miraculous: the best makeup, fantastic outfits, unexpected recipes, original gifts with handmade wrapping and much, much more.