Travel Back to the Time of Revolutions with National Geographic Russia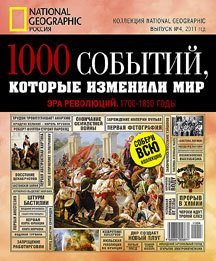 The fourth issue in the "1,000 Events that Changed the World" series from National Geographic Russia will be released on Dec. 20. The issue, "The Era of Revolutions," is devoted to the period from 1700 to 1850 — an era that witnessed the industrial revolution as well as a series of political upheavals.
The fourth issue in the series is a veritable portal into a fascinating world of facts about how the United States gained its independence, the Great French Revolution and the military, political and musical conquests of Napoleon, Lincoln and Mozart, the invention of the steam engine, the world's first vaccine and much more. The era of revolutions gave impetus to mankind's rapid development and influenced the way the balance of power would unfold in coming centuries.
Readers will find all of this and much more in new issue of "1,000 Events that Changed the World."