Collezioni at Fashion Week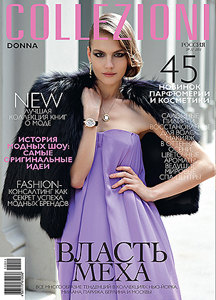 Collezioni magazine served as media partner to the Mercedes-Benz Fashion Week Russia (MBFWR). The latest fashion week, devoted to the spring-summer 2012 season, was held at the Congress Hall International Trade Center from Oct. 21 to 25.
Canadian top model Jessica Stam and Gorden Wagener, the legendary head of the design unit for the entire line of Mercedes-Benz automobiles, Maybach and Smart, attended the largest fashion week in Eastern Europe as special guests.
Highlighting this fashion week were showings by great Russian designers and talented newcomers. More than 80 collections for the spring-summer season were shown on the catwalks of the Mercedes-Benz Fashion Week Russia, including collections by Slava Zaitsev, Dasha Gauser, Viva Vox, Tatyana Parfenova, Biryukov, Barodulin's, Yelena Suprun, Lena Karnauhova and Leonid Alexeev. Event organizers also gave talented newcomers the opportunity to participate in this fashion week and continued the practice of staging collective showings by young designers. Guests to the event discovered 50 new names in the world of Russian and international fashion.
Throughout the week, Collezioni magazine screened promotional fashion videos in the foyer prior to each fashion show. The Collezioni logo was displayed on mercedesbenzfashionweek.ru in the section listing media partners and on the official event publication. An ad for the magazine was also included in the printed guide brochure to the event.