Third Meeting of Harvard Business Review – Russia HR Club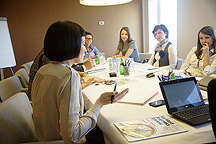 The third meeting of the Harvard Business Review – Russia HR Club was held on Sept. 27 in the offices of CTC Media.
The event was held in a new format — four roundtable discussions united by a single theme: "The effective use of modern channels of communication." Participants split into four groups to discuss one of the following relevant topics:
Using social networks: a new form of dialogue among young professionals;
Battle for talent in the new media: midlevel managers and how to recruit the best;
The IT market: personnel shortages and attracting interested applicants;
Corporate media: how to involve employees in creating and implementing ideas.
The event ended with each group making a presentation of their work.
Attending the event were HR directors from such companies as ABB, ABBYY, British American Tobacco, Glance, IBM, IBS, Oracle, Procter & Gamble, Starbucks, TELE 2, Unilever, Wimm-Bill-Dann, Alfa Bank, Baring Vostok Capital Partners, Capital Group, Severstal, Finam and others.