RB.ru Is Official Venue for 'Success Factory'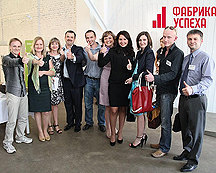 RB.ru has become the official venue for the Internet broadcast of the educational and entertaining show "Success Factory."
The project is open to entrepreneurs and managers aged 25 to 38 who present their business proposals for the competition. Contestants are vying for 27 prizes of a tuition-free MBA education and a single grand prize of 3 million rubles to develop the best business proposal.
The RB.ru offers complete coverage of the project — from the participants' initial registration to regular coverage of all current events and the scheduled September video report of the finalists' progress in their studies.
The first qualifying round of the "Success Factory" reality show was held at the Flakon Design Factory on June 26. It was organized by the Stars of Business national project and the Moscow School of New Economics, with RB.ru serving as the main venue for the Internet broadcast. The finalists were chosen by a jury consisting of representatives of the business community, celebrities, project sponsors and organizers as well as business consultants.
The first qualifying round of the "Success Factory" was held in two stages. Factory contestants prepared to make a two-minute pitch of their business proposals. The task was to check the skills participants had developed with the help of the project's business trainer on the eve of the pitch itself. At this stage, participants had to split into groups and choose the three business cases that would be presented to the show's organizers and business partners.
At the close of the first qualifying day, participants were invited to vote for the best business proposals. The greatest number of votes went to Olga Oshurkova with her proposal for a Mobile Milk Kitchen. The next three runners-up were Karina Belova with her 1 Day 1 Step project, Anna Vlasova with a proposal for ALS: Building a Company's Financial Structure and Andrei Yermilov for his Marka project. Many jury members took note of the most interesting projects for future investment or partnering. The experts said that in judging, they favored projects that were unique, realistic and well-structured.