Collezioni at Moscow City Racing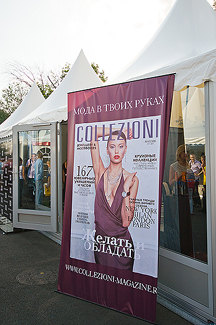 Collezioni magazine served as a partner to the hottest event of the summer: Moscow City Racing, held at Bolotnaya Ploshchad on July 15-17. During the first two days, leading global company sponsors set up promotional booths at the venue. They included Sony, Givenchy, Prology, Kaspersky Laboratories, Mobil 1 and, of course, Collezioni magazine. The culmination of the event came on Sunday when the Formula 1 Vodafone McLaren Mercedes, Team Lotus and Scuderia Ferrari team drivers arrived.
Guests could pass the time pleasantly by reading Collezioni magazine at the publication's booth. The Benefit company was on hand to give makeovers to anyone interested and sparkling Undurraga wine helped maintain the celebratory mood. The Voix design salon decorated the booth for Fendi Outdoor fashionable furniture.
Collezioni magazine also acted as the main media partner to the Paradise Club F1 Party and Singapore Night on July 16. This was the second time that Singapore has invited guests to plunge into the vibrant atmosphere of the country by trying national dishes, listening to DJ sets and enjoying the taste of the Singapore Sling cocktail.
As part of Singapore Night, Collezioni magazine and Ultra Models organized a showing of work by Singaporean designers. They included Kim Choo, who creates clothing in the traditional Singaporean style and Erin Loh, whose modern feminine outfits have won the continued admiration of the critics for her choice of fabrics and trims, clear lines and unusual details. Lee Hwa Jewelry, the leading jewelry house in Singapore that was the first to present 19-carat purple gold, was also on hand. Designer Lena Vasilyeva provided the dresses used in the Lee Hwa showing.
The Collezioni logo was placed on the VIP invitations to July 16 events and on all press materials for Singapore Night and the F1 Party. A banner for the magazine hung in front of the Paradise Club fashion show stage. An announcement was also made from the stage that Collezioni magazine acted as a partner to the event.