Harvard Business Review-Russia at Digital Branding Summit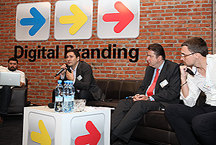 At the Ninth Annual Digital Branding Summit held in Moscow on June 7-8, participants discussed the best strategies for building a brand in the digital age.
The main features of the event were an evaluation of the effectiveness of marketing efforts in digital media and defining the role of social networks in brand building. Harvard Business Review – Russia Business Development Director Dmitry Falaleyev served as moderator for the first session of the summit, with the theme: "What do brands that have been successful in new media have in common? Success stories."
The marketing textbooks of tomorrow will be based on how to promote brands in the new media environment, and the following people shared their expertise in this area: Bertrand van Rening (SabMiller), Vyacheslav Yakhin (Yevroset), Roman Stepanov (MTS), Alexei Germanovich (Skolkovo), Karen Asoyan (MegaFon), Marat Rakayev (Samsung), Yury Dolzhenko (Unilever), Nikolai Belousov (Panasonic), Alisa Targanskaya (Procter&Gamble), Snezhana Sdvizhkova (VTB 24), Andrei Azarov (Lego), Yelena Kravets (Jaguar), Leah Dovgun (Starbucks), Anna Baum (PepsiCo), as well as the directors of leading digital and advertising agencies.