Agroinvestor Held Agroforum in Urals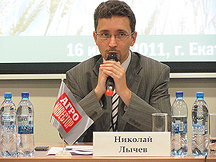 Agroinvestor magazine held a forum titled Strategies for Increasing Profits in Yekaterinburg for Urals-based agricultural companies. This was the second regional event the magazine has organized in 2011: a forum for agribusinesses in northwest Russia was held in St. Petersburg in February.
More than 80 representatives of agribusiness, food processing companies, agricultural supply firms, experts and analysts attended the event. Ingosstrakh acted as general partner, and the Russian Agricultural Bank served as the forum's banking partner. Agroinvestor editor-in-chief Nikolai Lychyov served as moderator.
Agroforum guests took part in themed discussion sessions and talks, shared their experiences with market colleagues and chatted informally with one another and with forum speakers during lunch and coffee breaks.