National Geographic Russia at World Geography Championships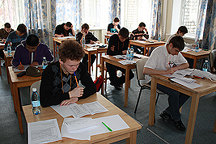 National Geographic Russia magazine served as media partner to the World Geography Championships organized by the National Geographic Society. The Russian Geographic Society will support the Russian team at the championship to be held in San Francisco on July 23-28.
Teams from 18 countries will take part in the competition: Australia, Brazil, Bulgaria, Canada, China, the Czech Republic, Germany, Ghana, Hungary, India, Mexico, Nigeria, Poland, Russia, Singapore, Slovakia, Great Britain and Taiwan (provided there is no political dispute over the "Chinese Taipai" issue.) The Russian team has taken part in all international competitions held by the National Geographic Society. The Russian team experienced its greatest success when it placed second and third in 1993, 1997, 1999 and 2005 after prolonged and hard-fought struggles against competing teams.
The final preparatory stage for this year's international competition is now under way. The 17 schoolchildren who will defend Russia's honor at the international geography competition will gather in the Tver region for a summer study and training session. They are all winners in the 20th All-Russia Academic Olympics for School Students. Three of them will be chosen to form the Russian team that will attend the World Championships. The assembled children come from a number of Russia's regions including the Irkutsk, Tver, Nizhny Novgorod, Voronezh, Moscow, Sakhalin, Astrakhan and Pskov regions as well as the Mordovia, Tatarstan and Komi republics.
The September issue of National Geographic Russia will include material about the results of competition. What's more, the magazine's editor-in-chief will meet the winners and personally hand them special prizes.