New Issue of Real Estate Quarterly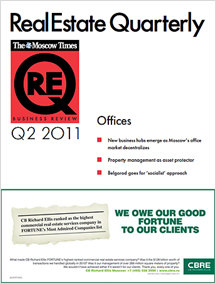 On June 1, The Moscow Times newspaper released a new issue of its Real Estate Quarterly supplement, this time focusing on office properties.
In the foreword, supplement editors Rachel Nielson and Alec Luhn note that Moscow's commercial real estate market is going through its own "reset" these days. Business centers were going up at full speed up until 2009. Renters were willing to pay enormous sums for prestigious office space. But the global financial crisis and the actions of new Moscow Mayor Sergei Sobyanin have changed that. Companies have begun economizing, and "Mayor Sergei Sobyanin suspended the issuance of building permits for the city center in mid-May, on the same day that he ordered a review of all permits that had been issued earlier. Sobyanin …sent an unmistakable signal that he personally — and therefore Moscow as a city — had had enough of shiny offices designed with little consideration for the city's infrastructure," the editors wrote. In the supplement's main article, experts analyze trends and predict which regions of the capital will soon experience a boom in the construction of office space.
This issue also includes real estate news in St. Petersburg: a new player has appeared on the market – a company that purchased bankrupt Makromir developer, the owner of five Moscow shopping malls; Gazprom has chosen a new construction site for its Okhta Center; the Finlandsky Railway Station has future plans to become a multi-functional transportation hub to include rail, bus and metro terminals, a business center, an entertainment center and possibly a hotel.
Real Estate Quarterly is a full-color supplement offering analysis of real estate in Moscow and Russia's regions. The publication has a limited print run and is distributed together with The Moscow Times newspaper to a limited audience of corporate subscribers and at major alternative distribution points – business centers, cafés and restaurants in downtown Moscow.