Wedding at Cosmopolitan Runaway Brides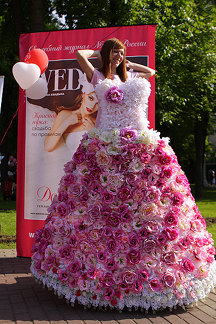 Wedding magazine took part in the Runaway Brides promotional event held by Cosmopolitan magazine in the Hermitage garden on May 28. Florists from the Tridvornova art bureau made an unforgettable special surprise for the Wedding display booth — a splendid dress made of flowers. Throughout the evening, a never-ending line of women queued up to be photographed in the dress.
Guests could stroll through the garden, discuss their concerns with Zhana Alibekova of the Lifeline Center, peak into the Psychic Tent, pull a happy heart inscribed with a life-affirming message from the Cosmo-Macho bag, make a secret wish with the Mary Kay magic heart that guarantees that each women will find her mate and, of course, admire the brides taking part in the fun and beautiful Cosmopolitan event.
Love Radio DJs Olga Mazhara and Maxim Privalov hosted the event, with the Gradusy, Pizza and Vintage groups supplying music from the stage to maintain the festive mood.