June Issue of National Geographic Russia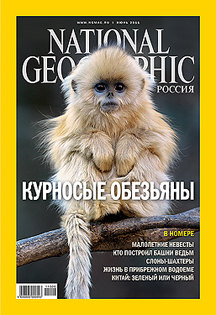 The main story of the June issue of National Geographic Russia is the article "Too Young to Marry" — a moving story about child marriages in India, Yemen, Afghanistan, Ethiopia and other countries. Girls aged 10 to 12 years, and sometimes as young as five, are illegally given in marriage to adult men and middle-aged widowers, often with tragic consequences.
Also in this issue:
The pug nosed monkey. The story of Chinese pug-nosed monkeys that live at an altitude of 3,000 feet in the harsh Qinling mountains and don't freeze even in the most severe sub-zero temperatures.
"Border Worlds." An article about inhabitants of California's coastal waters — starfish that digest food outside of their bodies, and about many of their marine neighbors.
"China: Green or Black." An article about the paradoxes of China: No country has invested so much money in clean technology while simultaneously burning so much coal to sustain its economy.
"Secret Chinese Materials for Almost Every Use." An article about rare-earth metals that no smart phone can go without, a wireless electric drill, a hybrid engine and thousands of other tools and devices.
The issue was released for sale on May 24.