Business Breakfast from Harvard Business Review – Russia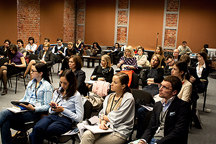 Harvard Business Review – Russia, with support from MTS and VKontakte, held a business breakfast titled "Best practices of Russian companies with a presence on social networks" at the Digital October center on April 26.
With tens of millions of people using social networks, companies are obviously interested in tapping into such an audience. But how to work with them? What tasks can be accomplished in social networks? Should companies try to sell their products or just promote and maintain the company's image? Because there are relatively few success stories regarding the use of social networks, Harvard Business Review – Russia tried to make the event as useful as possible.
The marketing directors and top managers of major Russian and international companies who participated in the meeting heard six actual case studies: MTS (presented by director of public relations Yelena Kokhanovskaya), Microsoft (general manager for consumer policies Pavel Cherkashin), HTC (regional marketing manager Anna Karaulova), TNS (projects director Nadezhda Tyutyunik), Panasonic (Internet marketing manager for Russia and the CIS Nikolai Belousov) and Unicredit (Internet marketing manager Sergei Yegorov). Ilya Perekopsky, deputy general director of VKontakte — the largest social network in Russia — told guests which tools the network is prepared to offer businesses today and in which direction that market will move in the near future. The event ended with a lively discussion among participants.