Yes! Everything Will Be Just Fine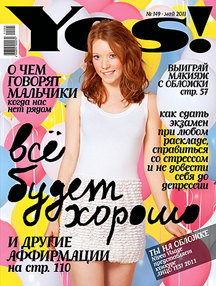 Everything will be just fine – no matter what might happen. Yes! is certain, and in that spirit the magazine will conduct a national campaign in May under the same slogan.
A balloon bearing the words "Everything will be just fine" is inserted in the May issue. Yes! readers all over Russia will gather in the central squares of their cities on May 14 at 4 P.M. to release their balloons skyward – and along with them, all of their sorrows and grievances. The largest such campaign will take place in Tyumen at the closing ceremony of the Russian Student Spring festival to be attended by 5,000 students. Muz-TV will serve as media partner to the event.
And, as usual, no May issue would be complete without material on the graduation prom. This time, Yes! tells readers how to pass any exam and cope with stress, and always features the best prom dresses, accessories and makeup for 2011.