Alpina Business Books Presents "Sonin.ru"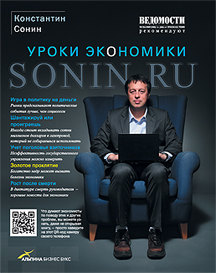 The book division of Alpina Business Books/United Press has released "Sonin.ru: Lessons of Economics," a book by world renowned economist Konstantin Sonin.
The publication is a fascinating guide to all areas of economics. It completely debunks most prevailing stereotypes about economics – that it is only sophistry with little in common with people's ordinary lives, dry formulas and tortured bespectacled scholars. It turns out that economists can help us understand why, in a penalty situation, the goalkeeper seems to throw the ball in the wrong direction, how the war between England and France led to the introduction of port wine, whether "Solomon solutions" are really wise and if there is a point to building pipelines when there isn't any gas to pump through them anyway.
Readers will learn from "Sonin.ru" that economists are not always boring people with their heads in the clouds, but on the contrary, lively people whose professional interests are connected to everything happening around them.