National Geographic Traveler at Travel Highschool Festival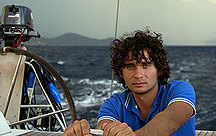 With support from National Geographic Traveler, the first "Travel Highschool" international travel film festival was held at the Artplay on the Yauza design center from March 24-27. The event brought together more than 4,000 people, including an enormous number of travelers and novice filmmakers.
In addition to film showings, the festival featured several workshops and presentations. Festival guests included contemporary film director Francois Picard and the famous Concertino, best known for playing in films by Finnish director Barbro Berfelta and Sune Scherfi of Denmark.
National Geographic editor-in-chief Alexander Zheleznyak held a special workshop on modern journalism, explaining how to write for the popular Travelogue genre. At the end of the workshop he answered numerous questions from the large number of participants present.