Secret Issue of Yes!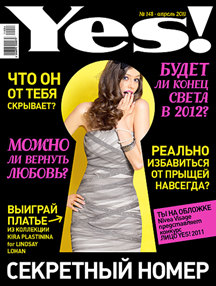 Yes! releases a secret issue in April. The bright yellow cover has a black sticker in the form of a keyhole. Inside the magazine, numerous secrets are revealed, from the banal but important (how to solve skin problems) — to the bizarre (answers to the most enigmatic theories and phenomena regarding the planets).
An advertising campaign in support of the issue will run from April 1 to 14 on the Europa Plus TV, Muz-TV and RU.TV television channels, the Energy and Europa Plus radio stations, in Moscow universities and institutes and in the Luxor movie theater chain.
The April issue of Yes! is a continuation of a whole series of special issues. Each issue from March through July sports a creative design, an innovative insert and a flashy cover.