Mamas&Papas in April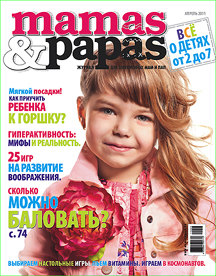 The newest issue of Mamas&Papas provides a wealth of useful information on everything from potty training your child and hyperactive children to developing your child's imagination, the principles of an environmental education and an answer to the perennial question of whether it's okay to spoil your children.
In the Calendar section, readers will learn about the most interesting events in April. Cartoon character Dasha the Traveler also takes travel fans on a walking tour of New York City.
Also in this issue:
Getting Acquainted: an interview with saxophonist Igor Butman;
Health: childhood eczema;
Family Circle: development centers.
The supplement for this issue of Mamas&Papas has a sports theme: Kids will study different types of sports and do a range of exercises, and also learn to craft hand-made bookmarks and pencil holders.
The April issue goes on sale April 22.