New From Alpina Business Books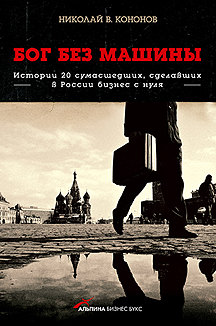 The book division of Alpina Business Books/United Press has released "No Deus ex Machina Here: 20 Insane Stories of Russian Business Start-ups" by Nikolai V. Kononov.
"Deus ex machina" is a plot device found in ancient dramas, where a power or god intervenes to solve the problems of the main characters. A crane would lower the actors portraying gods onto the stage as if descending from heaven. Many Russian businesspeople are actively striving to give people jobs and hope for the future. However, unaided by the divine intervention of the ancients, they must cope with difficult laws, corrupt law enforcement officials who attempt to seize their business, a general population that envies and resents those who achieve success in capitalist activities, and officials demanding bribes and kickbacks. As a result, businesspeople who started their businesses without loans-for-shares auctions and without the personal support of public officials turn out to be strangers in their own homeland.
The author tells the fascinating stories of the successes and tragedies of those who decided to start their own businesses in Russia.