The Moscow Times Conference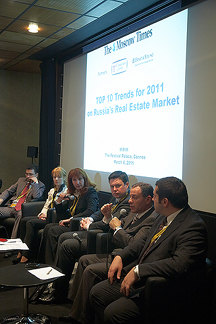 On March 8, The Moscow Times held a conference titled "The Top 10 Trends on the Russian Real Estate Market for 2011" at the annual MIPIM international property trade show in Cannes.
Pepeliaev Group and Ernst & Young served as partners to the event. The continuing high degree of uncertainty on the Russian real estate market gave the topic particular relevance. As the leading participants on the real estate market, the investors, bankers, developers and consultants present were able to evaluate the likely development of the market in 2011, through an open examination of trends, plans, recent transactions and legal practice on investment projects.
Sverdlovsk Economic Minister Mikhail Maximov reported on the most important real estate projects in the region and plans for projects slated for the coming years. Federal Housing Development Foundation Director Alexander Braverman mentioned that the growing interest in building affordable housing marks a new trend on the market, a point reinforced by MR Group Director Irina Dzuba. James Corrigan, VTB Capital's director for working with real estate companies, described the most important areas of investment on the 2011-12 real estate market, and Vladimir Sokov from Pepeliaev Group spoke about difficulties that investors can encounter when entering the Russian market.