New From Alpina Business Books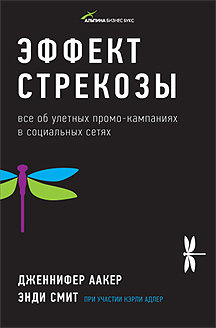 The book department of Alpina Business Books/United Press has released "The Dragonfly Effect: Quick, Effective Powerful Ways to Use Social Media to Drive Social Change" by Jennifer Aaker and Andy Smith.
Stanford University School of Business professors Jennifer Aaker and Andy Smith explore fascinating stories — real cases when the Internet shook the world — in an accessible and interesting style to explain how to make the maximum use of social networks to achieve marketing goals. The book reveals a variety of effective ways to convince a target audience, an FAQ section on viral marketing and information retention, the principles of creating effective and informative communication, as well as methods and examples for using decentralized marketing to attract mass audiences.