Wedding School Offers Lessons in Wedding Excellence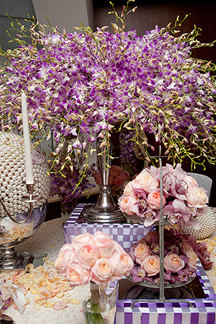 The 12th-floor Library Hall in the Ararat Park Hyatt hotel, with its panoramic view of Moscow, offered a stunning backdrop for the latest Wedding School lesson. Angelic mimes, a harp and flute duo and floral arrangements with orchids and tea roses created a "wedding in paradise" atmosphere, and jazz musicians entertained guests in the hall where the workshops were held.
The school's program was devoted to helping participants find their own personal style for their wedding celebrations. The director of an events agency conducted a workshop and gave lots of practical advice on preparing for the wedding. Calligraphy experts conducted a workshop on the intricacies of etiquette in the design and mailing of wedding invitations, and also provided examples of calligraphic art.
The future brides were especially interested in a demonstration of selected wedding dresses by designers Vera Wang, Elie Saab, Pronovias and Valentino from the collection of the Etra boutique. Dance studio staff demonstrated options for the newlyweds' first dance, explaining that it can be romantic, classical, daring or exotic, but must always be emotional. The most important thing in a wedding dance is not the skill of the dancers, but their ability to present the dance effectively and to enjoy themselves in the process.
Florist and decorator Yulia Shakirova presented a new approach to wedding design and inspiring options for wedding decor. She explained how the traditional floral theme can be complemented with arrangements of sweets and delicacies.
An expert on etiquette took guests on an excursion of the history of wedding floral design and explained the rules surrounding flower etiquette. The future brides were invited to experiment with make-up ideas and consult professional make-up designers at a stand run by Lancome.
Guests also attended workshops on creating personal fragrances and designer candles. The evening finished up with a tasting session of wedding cakes prepared by confectioners from the Ararat Park Hyatt followed by a tour of the hotel.