Vedomosti Opens Wine Club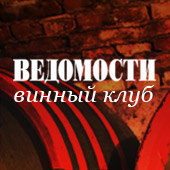 Vedomosti and the Vinoteka.ru chain of stores have announced the launch of a Wine Club.
The Wine Club is a joint Internet service run by Vedomosti and the Vinoteka.ru chain of stores, which offers wines and alcoholic beverages of the very highest quality.
According to Vedomosti Marketing Director Yulia Selyukova, "The wine theme did not come up by chance. We regularly write about wines and vineyards because good wine is an indispensable part of our readers' lives. All of our longtime business partners know that for the past 11 years Vedomosti has been giving specially selected wines as gifts, and that they have always been of outstanding taste."
The Wine Club range of wines was selected by renowned wine experts Igor Serdyuk and Andrei Grigoryev. Together with Vedomosti Deputy Editor-in-Chief Alexander Gubsky, they will regularly give readers the latest news and their personal recommendations. A distinguishing feature of the project is its thematic wine collections, which the founders feel will help readers choose the appropriate wine for their tastes and needs.