Collezioni at Pitti Bimbo Exhibition in Florence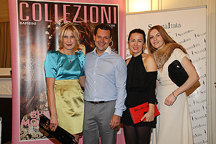 Collezioni magazine served as partner to Florence Wine Night, organized by the Societa Italia showroom on Jan. 21 at the NH Anglo American hotel in Florence as part of the Pitti Bimbo children's clothing exhibition. The representatives and buyers for leading Italian children's clothing brands who were invited to the event enjoyed the relaxed atmosphere, tasted the finest Italian wines and discussed new trends in this season's children's fashion.
Societa Italia is the official distributor of famous Italian men's, women's and children's clothing brands. The company, founded in 1993, focuses on developing trade and advertising on the fashion market throughout the former Soviet Union. The company is headquartered in Due Carrare (Padua, Italy) and has showrooms in Milan and St. Petersburg.