Mamas&Papas at Young Talent Competition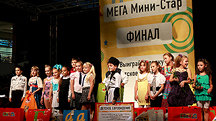 For the second time, the magazine Mamas&Papas will serve as information partner to the Mega Mini-Star young talent competition. A casting call for the contest was held on Jan. 8 at Mega shopping malls in Khimki, Belaya Dacha and Tyoply Stan. Young Mega visitors aged five to 12 could compete in categories such as singing, dancing, playing musical instruments and reciting poetry.
The casting call just completed was part of four qualifying rounds to be held on Jan. 15, 22 and 29, and on Feb. 5. Twelve candidates will be picked from each of Moscow's Mega shopping malls, and together they will compete for the top prize and the coveted title of "Mega Mini-Star" during the final round to be held on Feb. 12.
Winners will receive prizes from Mamas&Papas and the chance to appear on the pages of the magazine. The editorial office wishes all participants good luck in the contest!