Men's Health on Your iPad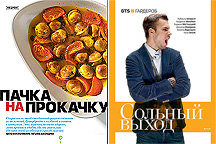 On December 15, the Independent Media Sanoma Magazines publishing house released the first issue of Men's Health magazine for the iPad tablet PC. The issue includes the best stories, interviews and reviews from the printed version of the December issue – such as an interview with Ryan Reynolds, star of the movie "Buried Alive."
Users downloading the issue receive the publication as well as supplementary exclusive video clips, music and slide shows. For example, under the heading of "Exciting Moments" users will see a video report on the Russian windsurfing and kiteboarding championships. And in "Where were You, Parasite?" they will view high-quality macro shots of tropical reptiles.
The Men's Health app also includes a unique animated video background for text. All materials are accompanied by spectacular special effects. Interactivity is the distinctive feature of the Men's Health magazine for the iPad. Almost all of the material presented includes a layer of animation by which the user can interact with the subject. By simply touching the screen, he can, for example, mix tea leaves in a mug or make a light bulb explode. In the "Rocking Chair" fitness instruction section, users will see step-by-step shots of the exercise that when viewed together create the impression of motion. Readers will easily understand how to work out without leaving their workplace.
The Men's Health magazine for the iPad is not the first time that Independent Media Sanoma Magazines has released such applications. Cosmopolitan magazine for the iPad has been published since August, and has proven very popular among iPad owners not only in Russia, but also abroad.
The iPad version of Men's Health is now available for downloading.