Custom Publishing on Communications and Time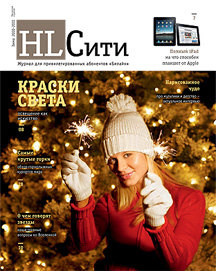 The winter issue of HLCity – the magazine for privileged Beeline mobile operator subscribers – will call up not only pleasant feelings, but also thoughts of the future. The New Year's theme is presented here from different angles: articles on festive lighting design techniques and a review of European and U.S. ski resorts.
Astronomy is the main story in this issue: scientists' latest discoveries and the most important observatories in the world – home telescopes. The star-filled sky is also connected with the New Year: the article "Tracking Time" examines calendars through the ages. And Smeshariki project director Anatoly Prokhorov relates in an interview that childhood in today's Russia is not only a time of miracles.
Top stories became astronomy: the latest discoveries of scientists, the most important observatories of the world, homemade telescopes. Associated with the starry sky, and himself the New Year: the calendar in different eras is referred to in the article "Counting the time." And in the interview room project manager Smeshariki Anatoly Prokhorov said that her childhood in Russia today - not only the time of miracles.