National Geographic Russia 3D Exhibition Opens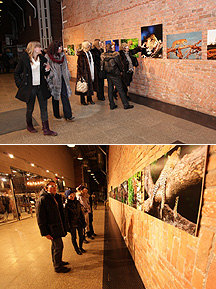 The 3D photo exhibition "Wildlife of Botswana" opened on December 1 at the Vinzavod (Wine Factory) gallery to great interest from the Moscow public. The exhibition will run through December 15 in the Fermentation Room, where visitors can view works by renowned Russian photographer Sergei Gorshkov. Some of the images have already been published in the December issue of National Geographic Russia.
The unique technology enables viewers to make the transition from a Moscow winter to the scorching African savannah. They need only don the special 3D glasses given to each guest and they will see a wide diversity of Botswana fauna in a realistic, three-dimensional format. Contrary to popular belief, very few territories remain in Africa that still belong to their rightful owners – the wild animals. Sergei Gorshkov's photographs capture the pristine areas of Botswana where leopards, lions, elephants, hippos, antelope and impala still live in their natural habitats.
Sergei Gorshkov took the 2006 Golden Turtle prize, the Russian competition for the best wildlife photographer. He is also the recipient of the 2007 Shell Wildlife Photographer of the Year and has been named the Best Photographer of the Year in Russia. His photographs are featured by the Minden Pictures agency and have been published in the National Geographic, BBC Wildlife and Digital Photo magazines, as well as in numerous other Russian and foreign publications.
The exposition is open daily from 12:00 to 20:00. Admission is free. Exhibit visitors can also subscribe to National Geographic Russia magazine and receive a complimentary 3D picture. The "Wildlife of Botswana" exhibition by Sergei Gorshkov is presented with support from Samsung.