National Geographic Russia Invites Readers to German Film Festival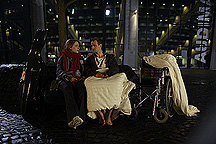 National Geographic Russia will serve as informational partner to the German Film Festival to be held from December 2 to 6 at the 35мм movie theater.
National Geographic Russia readers have traditionally shown great interest in Germany: ancient castles scattered across the country, national traditions and the eternal German character. The film festival will reveal something more about that amazing country and will be helpful for anyone learning German because all the films will be shown in their original language along with Russian subtitles.
A National Geographic Russia promotional film clip will open the festival and will be shown before the screening of each film. Details are available at the sites www.national-geographic.ru and www.kino35mm.ru.