Cosmopolitan Psychology at Femme Fest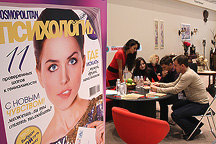 Cosmopolitan Psychology magazine took part in Femme Fest, the first international women's festival that was held in the Manege from November 12 to 14. The publication decorated its exhibition space in red and black, making it one of the most conspicuous at the festival. The magazine adopted the slogan "Be happy – it's easy" for the event.
Exhibition visitors settled in comfortably on couches and chairs and took a fascinating Cosmopolitan Psychology test on the following topics: "Why do you need money?", "How do you joke?", "How do you cope with stress?", "Do you lead or are you led?" Readers also had an opportunity to meet privately with a psychologist who authors a regular column for the magazine. All comers received express consultations on a wide range of individual problems. To ensure that everyone had a chance to meet with the psychologist, people were notified by SMS that their appointed time was approaching.
Thanks to invitations printed in Cosmopolitan and Cosmopolitan Psychology, as well as announcements that ran on the www.cosmo.ru site, more than one thousand people stopped by the Cosmopolitan Psychology stand.