National Geographic Traveler on Keks FM Radio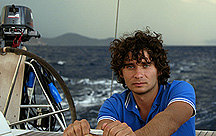 Alexander Zheleznyak, Editor-in-Chief of the Russian version of National Geographic Traveler – one of the world's most widely read travel magazines – has launched an original program on Keks FM radio station. On his program, "Ponaehali!" Zheleznyak describes his experiences and gives expert advice.
In the upcoming program, Zheleznyak shares useful information for travelers looking for an unusual and fun way to celebrate the New Year. Mexico, Armenia and Italy – listeners will hear stories about these and other countries on Keks FM radio.
The original program by Alexander Zheleznyak airs on Keks FM (89.9 FM) on Fridays at three minutes past 5 P.M.