Mamas&Papas in November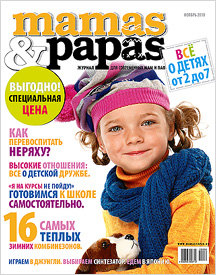 The November issue of Mamas&Papas magazine deals with relevant and serious topics. Readers will learn how to accustom their child to order, how to single-handedly prepare him for school, how single parents can cope with childrearing and about the very serious subject of children's friendships.
Editors tell the story of light-hearted Mickey Mouse from his creation to the present day. They also explain how you can tour the fantastic city of Tokyo without leaving your home. For leisure and development – a review of children's fitness workshops and the story of a sand painting studio. 
Also in the latest issue:
Acquaintance: an interview with actor and television host Mikhail Politseimako;
Practice: Internet stores;
The Truth About…: musical toys;
Health: stuttering.
A special insert is devoted to human anatomy.
A surprise gift also awaits readers of the November issue of Mamas&Papas: a set of decorative stickers.
The issue went on sale October 19.