Intellectuals' Club from Harvard Business Review – Russia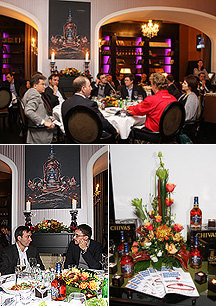 On September 16, Harvard Business Review – Russia and Chivas Regal 18 held their sixth Intellectual Club.
Guests included Artyom Genkin (Aspect), Andrei Mladentsev (Farmat), Boris Volpe (Sitronics), Vasily Baranov (Commander Taxi), Ruben Arutyunyan (Henderson-Russia), Nikolai Vlasenko (Victoria), Mikhail Krasnov (Verysell), John Stech (Chrysler Rus), Dmitry Zimin (Dynasty Foundation), Mark Rosin (Ecopsy Consulting), Andrei Sviridenko (Spirit), Sergei Matsotsky (IBS), Simon Vine (Alfa Bank), David Yan (ABBY) and many other well-known members of the business community.
The evening began with a cocktail reception during which guests were able to chat with each other and talk about the latest news. A topical theme was chosen as the discussion topic: How to find and hold onto talented staff. Harvard Business Review – Russia Editor-in-Chief Yelena Yevgrafova made a few remarks on the theme and suggested continuing the discussion during dinner.