Agroinvestor Recognized as "Effective Sector-Specific Media"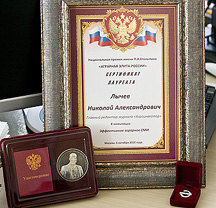 Agroinvestor magazine was awarded the Pyotr Stolypin Agrarian Elite of Russia national prize. Agroinvestor Editor-in-Chief Nikolai Lychev received the winner's diploma and medal from the foundation that had organized the awards ceremony at the Crocus Expo. The magazine was nominated in the category of Effective Sector-Specific Media.
The Agrarian Elite of Russia prize has been awarded since 2001. Over the years, its laureates have included People's Artist of the Soviet Union Yevgeny Matveyev, renowned sculptor Vyacheslav Klykov, abbot of the Stretensk Monastery in Moscow Archimandrite Tikhon, heads of various Russian regions, directors of agricultural holding companies, scholars, scientists and financiers.